Telehealth - Video And Phone Consultations
Women's & Men's Health Physiotherapy has been offering telehealth consultations to our rural, remote, and interstate patients for many years. With our reputation for excellence in pelvic health, patients from all around Australia are able to access our unique expertise using telehealth to overcome the barrier of distance. Since the recent COVID-19 pandemic, our telehealth service is proving an excellent option for local patients who prefer not to attend in person.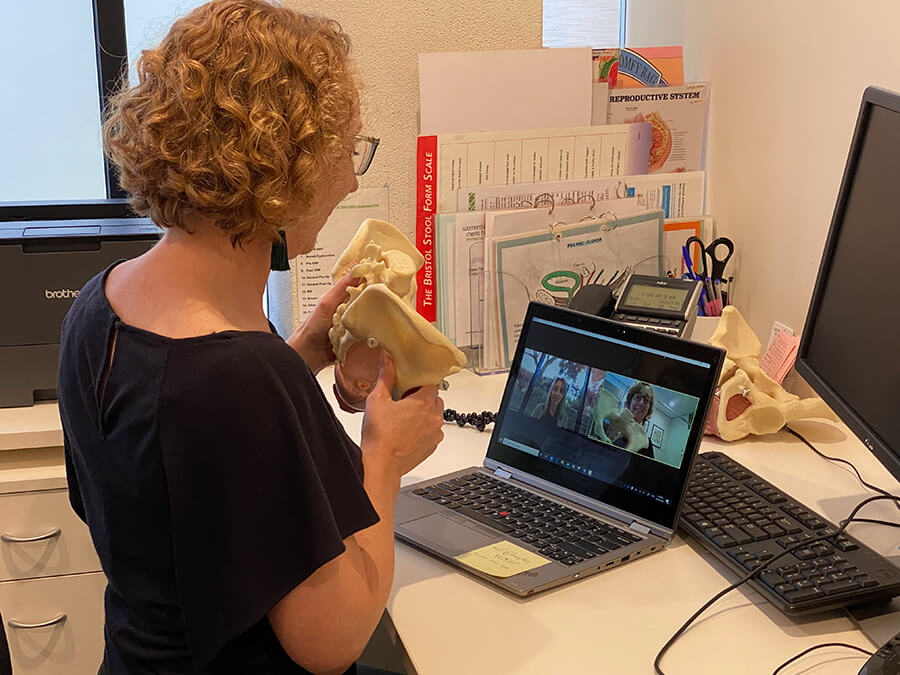 What is Telehealth?
A Telehealth consultation is a "virtual" health care consultation delivered remotely using your own device eg. a laptop. From the comfort of your own home you can consult with your physiotherapist using either a computer, smart phone or tablet for a video consultation, or a telephone (mobile or landline) for a telephone consultation.
In a Telehealth consultation, your physiotherapist will take a thorough history, explain your likely diagnosis, then go through a detailed treatment program. As much of what we do involves education, the majority of our treatments can be delivered over Telehealth.
Who can benefit from a Telehealth consultation?
Many patients at Women's & Men's Health Physiotherapy can benefit from a Telehealth consultation. Problems that can be managed effectively with Telehealth include:
Loss of bladder or bowel control
Bladder urgency or frequency
Prolapse
Pelvic pain
Sexual pain
Urinary leakage after prostate surgery
Chronic constipation
Back or pelvic pain during or after pregnancy
Abdominal muscle separation (DRAM) during or after pregnancy
Research shows that telehealth is effective, with a Swedish study finding online consultations with a pelvic floor physiotherapist can effectively treat bladder leakage (Sjöström, 2015).
If you are unsure if Telehealth is right for you, please discuss this with our friendly reception team or your existing WMHP physiotherapist.
How does a Telehealth consultation work?
We use the secure online platform ZOOM to conduct our video consultations. For this you will need a smart phone, tablet, laptop, or a desktop computer with a camera, microphone and speaker. Before your appointment, our reception team will send you an email with instructions guiding you though the set up for your video consultation.
We ask that you please set up your device in a room that is well lit, private and quiet. We recommend using headphones or earphones to further improve your privacy.
If you don't have the equipment or prefer not to use video conferencing, telephone telehealth consultations are also available. In this instance no set up is required, your physiotherapist will call you at the agreed appointment time.
Our reception team and physiotherapists are experienced in telehealth and are available to guide you through this process, and help with any problems you may encounter.
Are rebates available for Telehealth?
Medicare (with a GP Chronic Disease Management Plan / Enhanced Primary Care Plan) and most private health insurers are providing rebates for physiotherapy Telehealth during COVID-19. Please contact your private health insurer to see if you are covered for physiotherapy Telehealth.
How do I pay for my Telehealth consultation?
Our reception team will contact you following your consultation to process your payment. You are able to pay over the phone using debit or credit card. Please contact our reception team with any questions regarding Telehealth payments.
Our friendly reception team are available to answer any questions you have about Telehealth. Please

call

or

email us

to see if Telehealth is right for you.
Reference
Sjöström M, Umefjord G, Stenlund H, Carlbring P, Andersson G & Samuelsson E. (2015). Internet-based treatment of stress urinary incontinence: 1- and 2-year results of a randomized controlled trial with a focus on pelvic floor muscle training. BJU Int., 116(6):955-64.